For those who are new to #UXchat – it's our one-hour live Twitter discussion (via the #uxchat Twitter hashtag) where you can rub virtual shoulders with some of the most knowledgeable UXperts on the planet and discuss a different UX topic every week.
This week's topic is: Harnessing Life Experiences in Your Design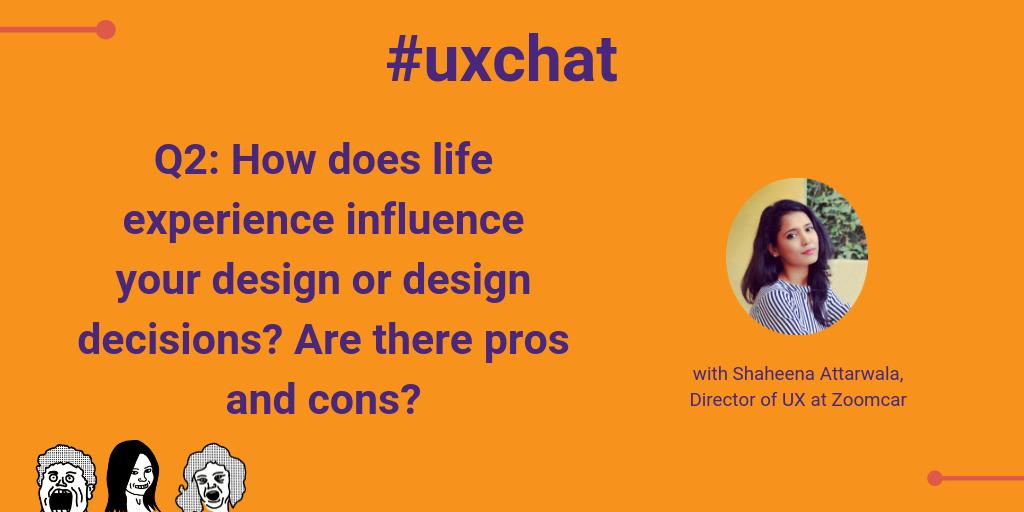 Our esteemed host is: Shaheena Attarwala, Director of UX at Zoomcar
Shaheena is a Director of UX at Zoomcar, India's first self-drive platform. At Zoomcar, Shaheena leads the UX team to build a definitive, hyper-local, multi-modal urban mobility transport solution for India and emerging economies, with close collaboration with cross-functional teams.
Born to a conservative family in a village in Uttar Pradesh and growing up in the grimy slums of Mumbai, her experiences propelled her to reduce 'bad' human experiences by creating more impactful and empowering solutions through a seamless union of human-centred design, curiosity, intuition and logical reasoning. In this journey of adversity, Shaheena is the first generation in her clan to rebel her way towards educating herself and changing mindsets about a girl child. Living a frugal life has taught her empathy and compassion for fellow humans and the planet.
She's passionate about human behaviour and cross-cultural experiences and loves reaching out to people and sharing perspectives, for she believes that is a sincere way to learn and form sustainable communities!
Apart from making the digital world a better place by building better experiences every day, she also endeavours to reshape the lives of the less fortunate by blending design, technology and her legal skills. Over the years, her initiatives to create a positive impact has received recognition from the United Nations.
You can look up some of her social initiatives below:
Build a Toilet : Crowdfunded toilet for a poor family in Uttar Pradesh
Clean Your Home: Mobilised locals in her slum to clean their surrounding
Social discrimination against an underprivileged child made news around the world.
You can connect with Shaheena via Twitter: @RuthlessUX
This week, Shaheena and our UX community discussed the following subjects, which you can read through in the Twitter Moment below.
What role do life experiences play in building empathy and curiosity?
How does life experience influence your design or design decisions? Are there pros and cons?
Is frugal thinking an important tool for quick design iterations? How?
UX Chat w/ Shaheena Attarwala on Harnessing Life Experiences in Design
UX Chat w/ Shaheena Attarwala on Harnessing Life Experiences in Design
https://platform.twitter.com/widgets.js