DesignUp is also Asia's premier Conference for DesignInTech, and a series of diverse events bringing practitioners, leaders & learners together, fusing insights from East & West. It is a growing community of Designers and Product creators working with tech, across diverse industries, schools and non-profits.
"

4 Lessons from questioning the Status Quo:

Influence Change"

 
Lesson 1: Scarcity creates the need for initiative and innovation
As a seven-year-old living in the slums of Bombay, I had to carry a bucket of water to the local public toilet for defecation. Not only did my fingers hurt because of the thin handle, but I also spilt a lot of water by the time I reached the toilet. 
One day I asked myself "Is there nothing that can make this already miserable process a little less annoying?" The next day, I cut open an empty oil container as its handle was more comfortable and the water didn't spill out anymore either.
After seeing how the new container worked far better,  my neighbours borrowed my new oil container and made their daily slog a little bit less…shitty.
Lesson 2: Observe, Immerse, Participate
Design leadership was never part of my plans. I never saw myself getting into leadership or design. Like many other orthodox Indian families, my family planned to get me married as soon as I hit puberty.
So how am I standing here?
Let me take you back in time, As a young boy, my father migrated from our village in Uttar Pradesh to Dharavi (in Bombay) and became a hawker selling essential oils. My mother and I lived in the village, and I studied in the local village school and Madarsa (a place where Quran and Islamic culture is taught) because I got free boiled lentils and sweets there. It wasn't a bad life – I enjoyed myself. We later moved to Bombay to live with my father and I moved up in life to a school run by the Church. My mother was a farmer and never stepped into a school. Since childhood, I was being groomed to be a typical wife who could cook and clean and so  It was difficult for me to convince my father that education would be a better choice versus marriage. But why did I want to study that badly? 
My school pulled me away from a world that I was born into, to a world that I was attracted to. Where the toilets were clean and I learnt a new way of life. 
By the age of 15, I had OBSERVED many women around me were helpless, dependent, abused, and going through life without having the freedom to make their own choices or to be who they wanted to be. 
With no one to talk to, I often talked to myself. I asked myself, "Why is my father behaving this way"? I saw other parents pushing their kids to achieve more – to study harder and get better grades, so what was happening here? Hopeless and filled with anger after being thrashed, I was ready to leave my modest home and move on to the streets to pursue the life that I wanted. I had nothing to lose at that point. 
But before that, I had to give this a last try. After a lot of reflection and beatings, I had two choices, first, leave home and go to the street or have a face to face conversation with my father.
I knew my father was coming from a place of fear and societal pressure. In the world that he lived in (a tiny village) girls didn't go to school and were secondary citizens with no identity. While I understood where his feelings and worldview came from, I wanted him to be able to see the world in the way that I saw the world. I wanted him to know that I needed something different -I did not want to accept the default fate that awaited me. And to tackle this I needed a different strategy. 
I confronted my father and told him: I understand that you do not want me to study further, and I will do as you say. I will not study and you can get me married. You will have to promise me though, that if anything goes wrong in my life or if I am hurt you, will be there to take responsibility for it and fix things. Because if you do not empower me today to learn to solve my own problems, you will have to solve them for me tomorrow. He understood that this was something I had thought through and he agreed for me to study. In this way, little by little I bought myself time and finished college.
Lesson 3: Designing for the unserved and the underserved
Witnessing manual scavenging as a normal part of my upbringing in the village and likewise in the slums, it really bothered me as to why is it that someone has clean faeces of another human with their hands? Why does another person have to enter a manhole and clean it? And why was this job limited just one set of people? Even in today's "progressive" cities, we perpetuate this culture by getting someone else to clean our toilets. This thought stayed with me. A few years ago, on World Toilet Day, I decided to do a cleanliness drive in my own slum. Gathering volunteers from across the world using social media, we cleaned parts of my slum. I visited each home and requested adults and children to participate in the cleanliness drive of our neighbourhood. I got huge support from children but very little from the adults. The cleanliness drive was recognised by the United Nations and published on the UN-Water website.
Often I was forced to defecate in the open, sometimes due to filth and other times adult women thought it was ok for little girls to defecate in the open and let adult women use the toilet. AThis exposed me to molestation and eve-teasing. A few years back  I still remember the day my mother spoke to me about this poor family in UP Ajitapur who could not afford a bathroom and toilet in their home and had to visit fields to defecate. It's difficult when the crops are harvested because then they have to venture a little far which exposes them the risk of molestation and rape. Remembering the horror of what open defecation can do to girls, I ran an online campaign to fund and build a toilet in their home. Eventually, they had a toilet and a bathroom of their own.
Lesson 4: Practise is better than protest
Today I feel a little overwhelmed that my journey has in some shape or form influenced parents in my village and in the slum that i stay in to believe how important it is that their children get a proper education and have dreams. I feel humbled when I get calls from people in my village and slum and they ask me "Our daughter wants to study, what must I do?" or "My daughter says she wants to be like you!". It moves me, because in all the chaos of rebellion I did not see that change was taking place in microscopic forms. We say in design that we must design for the mental model of the users but real life is completely different, we design our lives and in that process, we shape the lives of others around us and influence change in ways we can't imagine. Girls are allowed to not just study but also have thee freedom to work. Today my parents and relatives are advocates of education among their societies. This makes me proud that behaviour can change and people can change. 

Key Takeaways
Things don't always have to be the way they are. Question everything around you. Your belief, Your society and Your government.

Lead by empathy & influence, especially when you have little or no authority

Don't protest be the prototype, be the model others can follow

Comfort zone Is a mindset, not a surrounding. 
This talk is for all those 7-year old children who still carry a bucket of water. I hope their parents are able to accept and be open to the fact that their child can have dreams, and can achieve them too.
check out some more videos and talk of awesome designers & changemakers here>>
Check out the promos & Slides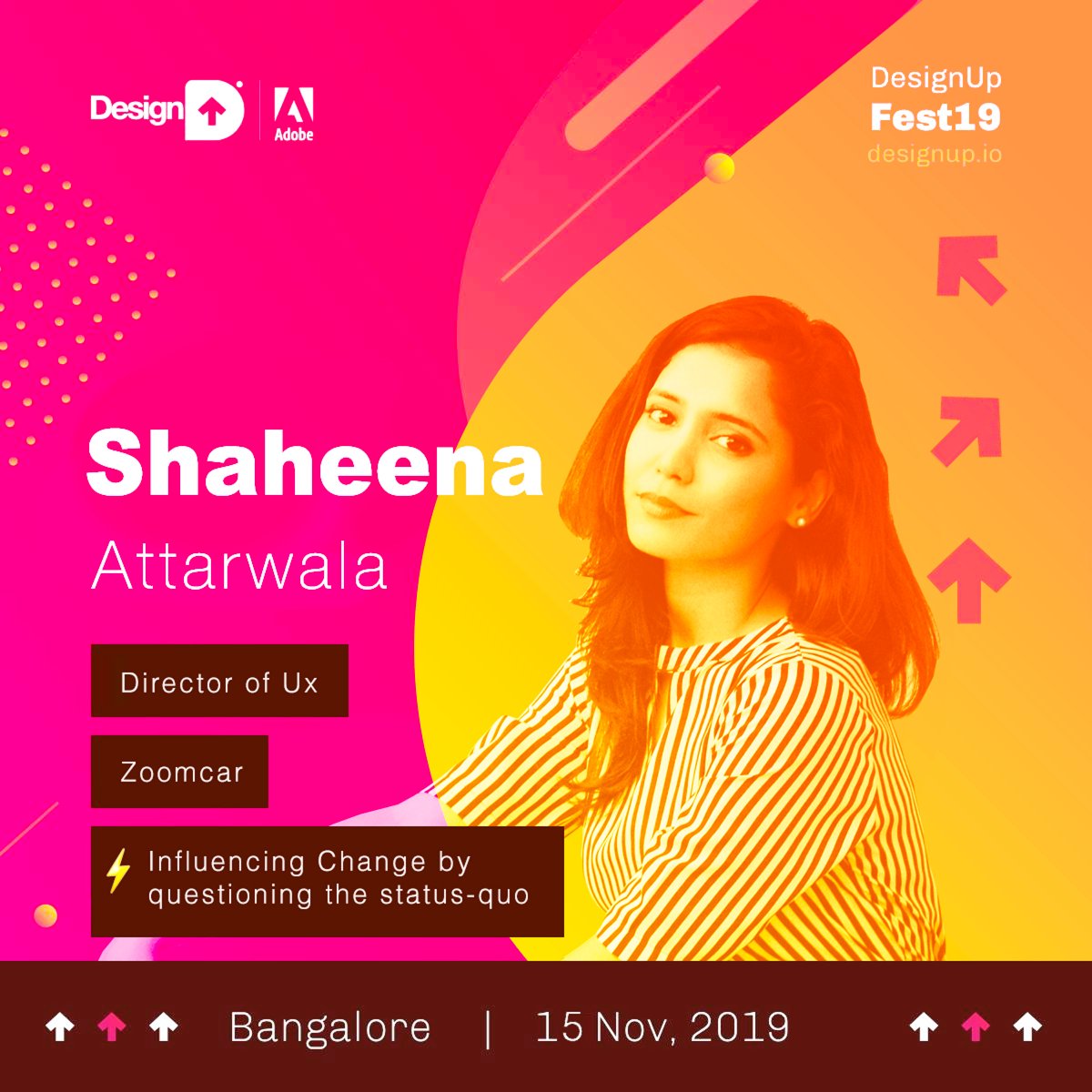 Checkout the slides: